LA SECTION D'OR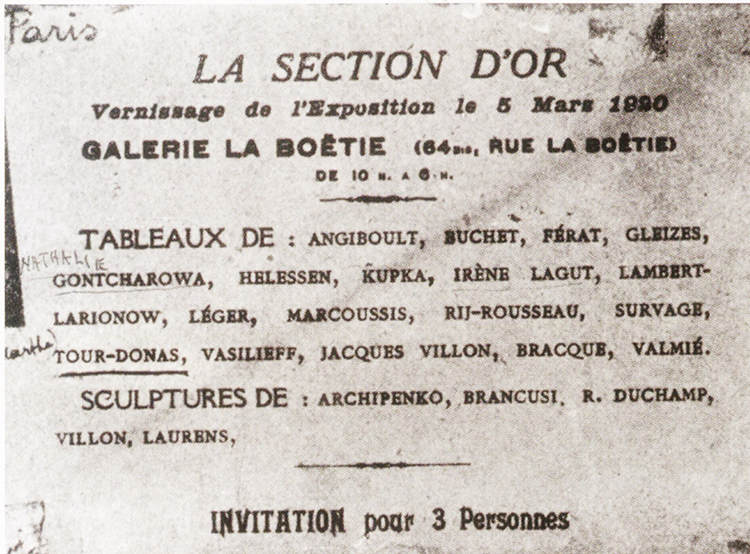 Archipenko and Donas were back in Paris by 1919, where with Albert Gleizes, Léopold Survage and Baroness d'Oettingen they became actively involved in the relaunch of the artists' society La Section d'Or. The new circle set itself the goal of uniting modern artists in a single front, a well-organized machine with an official constitution, a board, meetings and membership fees used to fund exhibitions and lectures. By readopting the name the group immediately aligned itself with the important Section d'Or exhibition held in October 1912.
TOUR DONAS
It was not easy for a woman to break into a male dominated Cubist and Abstract art world. Convinced as she was as to the quality of her work, Donas adopted the intriguing and above all androgynous pseudonym 'Tour d'Onasky', quickly simplified to 'Tour Donas'. Artist friends had persuaded her that she was too bright to exhibit under a female name.
I strongly recommend that you invite the very talented modern painter 'Tour Donas' for your salon. Donas is my best pupil. Alexander Archipenko to Herwarth Walden, 1919
Archipenko was a fervent networker and he set about promoting Donas' work intensively from the beginning of 1919, no doubt at her urging. He wrote letters and sent photographs of her paintings to the Italian, Dutch and German art impresarios Enrico Prampolini, Theo van Doesburg and Herwarth Walden, who published them in their now famous art reviews Noi, De Stijl and Der Sturm. In december 1919 Donas had her first personal exhibition at the Galerie Kundig in Geneva.
LA SECTION D'OR
After its initial exhibition at the Galerie de la Boétie, the internationally composed Section d'Or turned its gaze straight away beyond the French border. The first major tour, travelling through the Netherlands was organized by Van Doesburg, whom Donas personally met in Paris in Spring 1920 and who became a trusted friend. Other exhibitions opened in Brussels, Geneva and Rome. All of them included works by Tour Donas.